Jamaica Black Life Productions Ltd./Black Life Label – Oceans Apart Vol 3, produced by Leon Campbell is available worldwide. Released March 11, 2022 as a compilation album, featuring All Star Reggae Entertainers, Black Champagne, Tracy Mowatt, Ninjaman, Jah Niceness, Predator, Hawkeye and Ricky Ticky. 
Oceans Apart Vol. 3 album was created as a Reggae R&B/Dancehall All Star Album. The merging of the genres allows you to listen to the full gravity of Reggae R&B. From his own label, Jamaica Black Life Productions Ltd./Black Life Label, Producer Leon Campbell, with live backing band Sly & Robbie, and harmonizer Pam Hall, creates the sound that makes the music come alive; R&B carries soft feelings, while Dancehall carries rebel vibes, together, it feels like you're listening to a live reggae band on a Jamaican beach.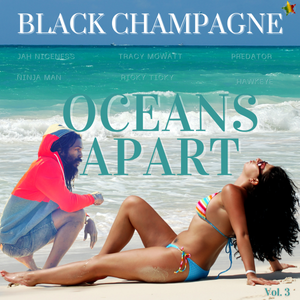 Preview Album Here: https://jamaicablacklife.com/album/2292123/oceans-apart-vol-3
From Mika Lorie with Love on ATC International, Channel 31 says: The music has the spirit of reggae, a specialty, it's really very nice, very good. Oceans Apart is one of your best songs. We're waiting on a tour in the Philippines. Aired: February 14, 2022 
Artist, Writer, Producer and Label Owner, Leon Campbell aka Black Champagne, Reggae R&B, Dancehall Entertainer, along with Tracy Mowatt and Jah Niceness provide the R&B sound, while Ninjaman, Predator, Hawkeye, Ricky Ticky and Black Champagne bring in the dancehall vibes. 
Twitter: https://twitter.com/JA_BChampagne
Contact: jamaicablacklife@yahoo.com
Website: https://jamaicablacklife.com/home
Independent Record Label, Jamaica Black Life Productions Ltd./Black Life Label, was founded in 1998 by Artist / Producer Leon Campbell, aka Black Champagne, in Jamaica, West Indies. Originally Black Life Records, Black Champagne recorded his first track at Arrows Studio, in Kingston, Jamaica. Black Champagne continued to record tracks, perform live shows and tour places like Switzerland, Vienna, Helsinki and the U.S.  When music engineer Delroy "Fatta" Pottinger left Arrows, Black Champagne followed, and made Anchor Recording Studio his music lab.